From the trenches of the world war to the yakuza gangs in Japan, and now to the Asphalt tracks of the MotoGP, bikes have a ubiquitous presence in almost every major event in the world. With such a rich history, it makes sense to celebrate motorcycles and what's the first thing that pops into your mind when you hear motorcycle racing?..
9 out of 10 people will probably say MotoGP, even if people don't watch it, they'll surely know about it, that's how synonymous the term MotoGP is with motorcycles.
But before we get to the nitty-gritty details, let's look at how MotoGP came to be what it is today.
Fédération Internationale de Motocyclisme, established in 1949, acts as a governing body and presides over all the motorcycle events. This year also marked the beginning of the world racing championships, where  Grand Prix motorcycles were raced.
These were custom-built bikes and were unavailable for public use, frankly, public roads back then wouldn't have supported such high-speed machines.
Most races during this time period used street legal motorcycles with a few modifications. So building a bike only for the purpose of racing them was an alien concept.
The 1950s 
 Several teams with various bike configurations participated in these events and hence to level the playing field, classes were introduced based on engine size, like,  50cc, 80cc, 125cc, 250cc, 350cc, 500cc, and 750cc and most of them using a four-stroke combustion process.
 To make it more interesting a class for sidecars was also introduced. Cause why not?
The 1960s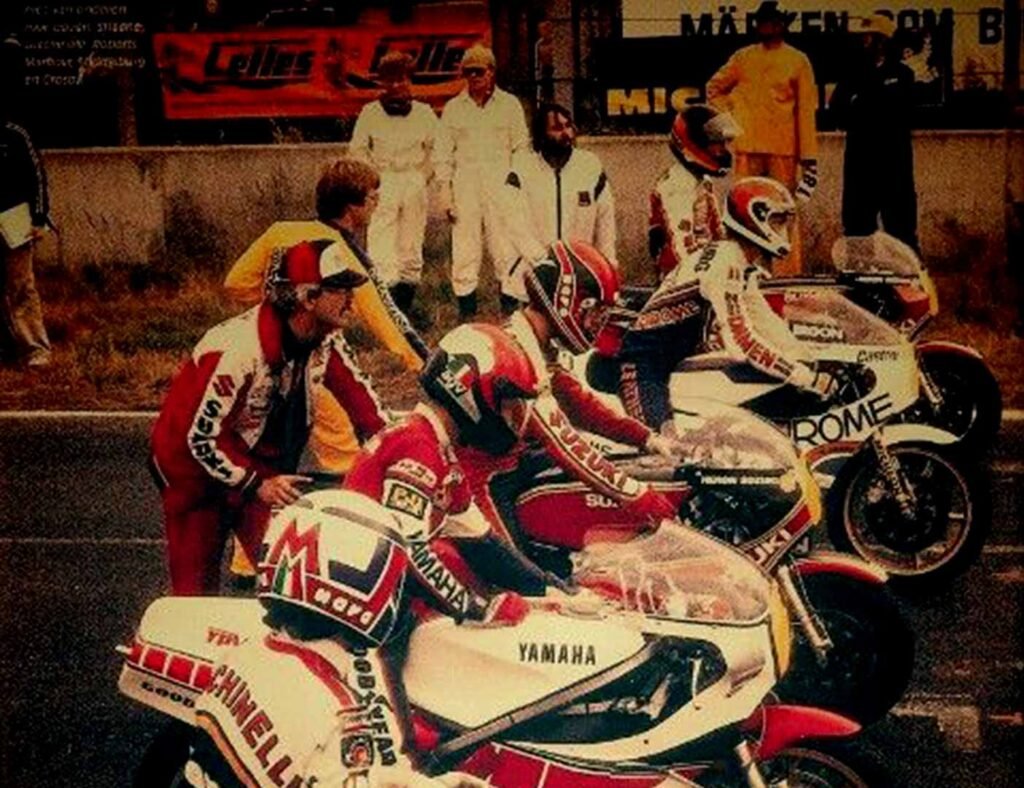 With an increasing number of teams competing and with advancing technologies, two-stroke engines were introduced for the smaller classes.
Until this point there wasn't a specific set of rules decided for each class, this however caused disadvantage for some smaller teams as they couldn't afford the technology or skill to compete with the bigger ones.
Hence in 1969,  the FIM came up with a standard set of rules every team had to follow, these being; the number of gears restricted to 6 and, classes below 350cc to use only 2 cylinder engines.
Now, this pissed off major teams like Honda, Yamaha, Suzuki as these restrictions prevented them from using their far superior machines and thus dominating the championships. The championships were now mostly dominated by smaller Italian teams up until the mid-70s, which had perfected the smaller engine segment.
However, after 1975, both the FIM and the major teams realised that a huge goldmine was being unexploited and thus calling a truce. A four-cylinder configuration for the higher displacement engines, 350cc and more was allowed, and this thus marked the return of the bigger teams.
Up until 2002, this system continued, after which a special class for 500cc engines was introduced. To make this class stand out from the rest, it was rebranded as MotoGP.
Over the years, the engine size has been increased to 800cc and currently sits at a whoopingly fast 1000cc.
As of today, several other changes are employed, with multiple engines allowed for an individual team, 7 to be specific for one race year, bigger fuel tanks, better brakes with a larger budget. All of this allows for a more exciting and safer Championship.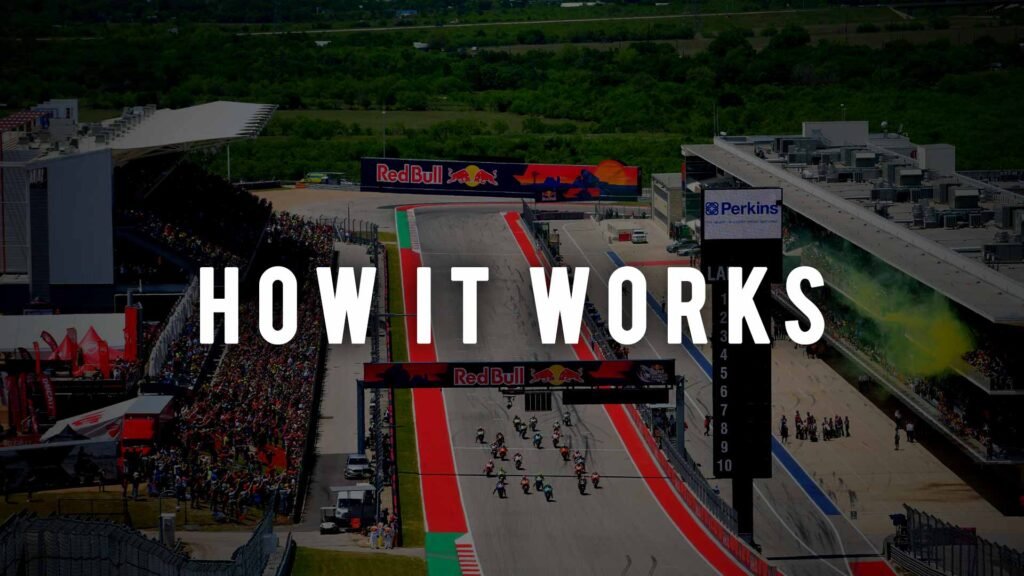 You've got 20-22 riders, representing different teams and different manufacturers, who battle it out for 19 races all over the world for almost a year. Each team consists of two riders, thus making up 10-11 teams.
The rider with the most points at the end of the competition wins the world championship and the team with the most points wins the team championship and the manufacturer can also compete for a constructors championship.
Now while this is just a basic outline of a typical MotoGP championship, there's a lot going on behind those tinted helmets.
      Brand involvement in MotoGP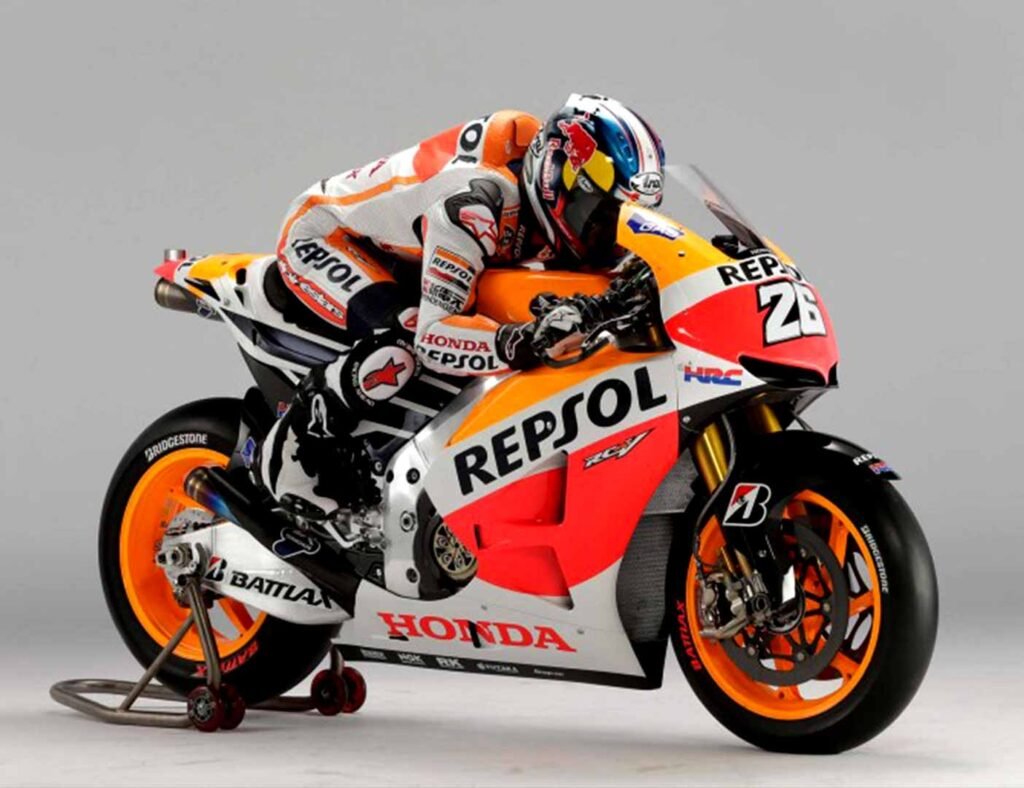 It's hard to believe but in the beginning, riders themselves had to pay for their seat, and take care of other expenses, this was mainly because motorcycle races were not very popular and considered more of a fun pastime for the upper echelon of society.
However, with increasing revenue, people began sponsoring different riders and building teams in a bid to gain popularity for themselves and their brand.
Initially, the livery consisted of the rider's or the team's national colours, but sponsors in an attempt to promote their brand started making custom liveries for the drivers and team members.
Several iconic liveries such as the orange Honda Repsol Factory team and the Suzuki RGV500 Pepsi have gained worldwide recognition.
Presently a race calendar budget can be about 10 million Euros, with some teams even spending 15 million Euros.
Prize money usually starts at 11 million euros for the winning rider, with the last place being paid anywhere from 100 to 200 thousand euros for the last position.
Unlike the other major motorsport events, teams and constructors do not earn any prize money. However, winning teams do earn bragging rights and a considerable amount of brand promotion.
Race Format
A typical race takes place over a three day weekend.
Friday:
Consists of 4 practice sessions, FP1, FP2,FP3,FP4.
The first three practice sessions are timed and the top 10 drivers at the end of FP3, directly make it to QP2 which is held on Saturday. The remaining drivers go into QP1.
The top two drivers from QP1 get another go at the top 10 positions and are allowed into QP2. The remaining drivers are arranged as per their lap times.
FP4 is mainly held so that teams can set up necessary configurations and get ready for the race. So by the time the day ends, the positions 13-20 are finalised and practice sessions are concluded.
Saturday:
The QP(2), where the positions 1-12 are decided, is held on a Saturday.
Sunday:
Race day.
Race day begins with a 15-minute warm-up session, this is to provide the teams with a window to assess the day's situation and conditions and make any necessary tweaks.
After this, the riders take up their respective grid positions. In case a rider has a false start or is unable to start, then he still has a chance to begin the race until the leader has finished 1 lap.
Races are a sprint from start to finish, covering about 100 to 130km and do not include any pit stops unless an emergency arises. Races usually last for 45 minutes, not accounting for any unpredicted events, like rain or a crash.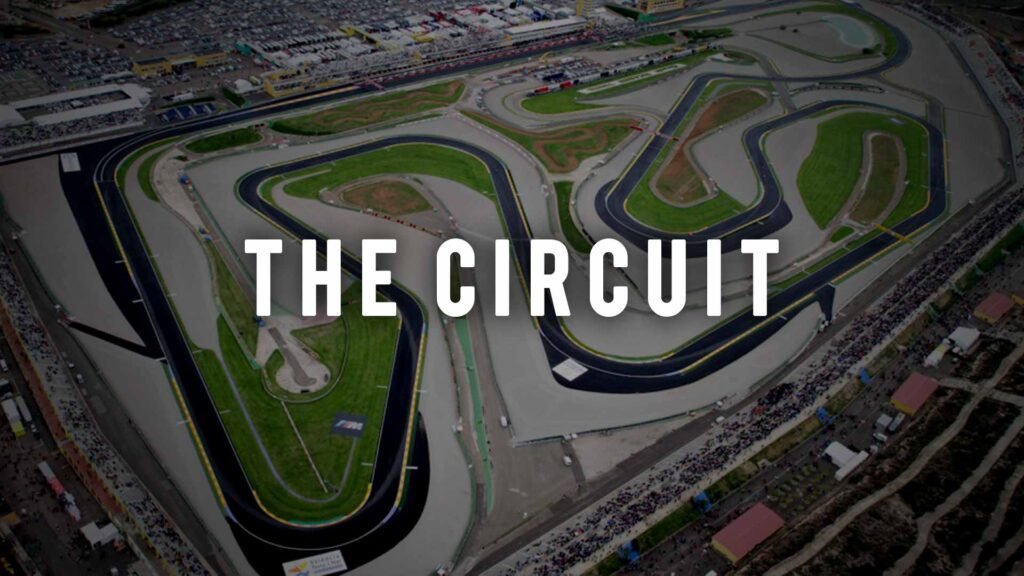 As of today, 73 tracks have hosted a MotoGP race, the first being held at Snaefell Mountain Course which also hosts the Isle of Man TT, one of the most dangerous racing events ever.
Various types of tracks have been used over the years such as the Suzuka International Racing Course, which is a track built especially for Motorcycle racing, Circuit de Spa-Francorchamps, which also hosts other racing events and street circuit Montjuïc circuit.
Scoring System
As mentioned earlier, there are 3 championships to be considered.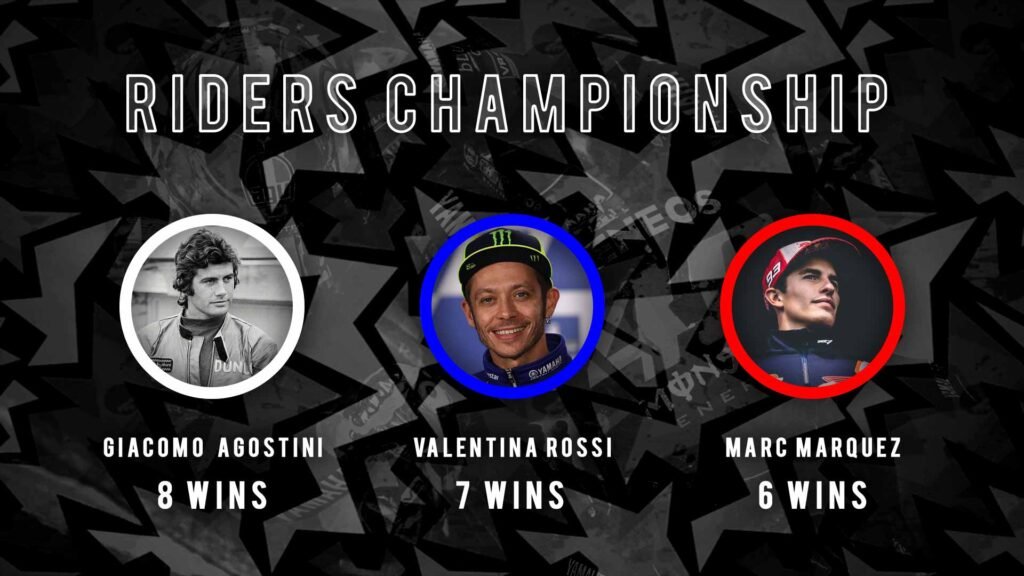 The riders are scored based on the position they finish, with the winner getting 25, 2nd scoring 20, 3rd-16 and so on and the 15th position getting 1 point.
 Riders finishing lower are not awarded any points.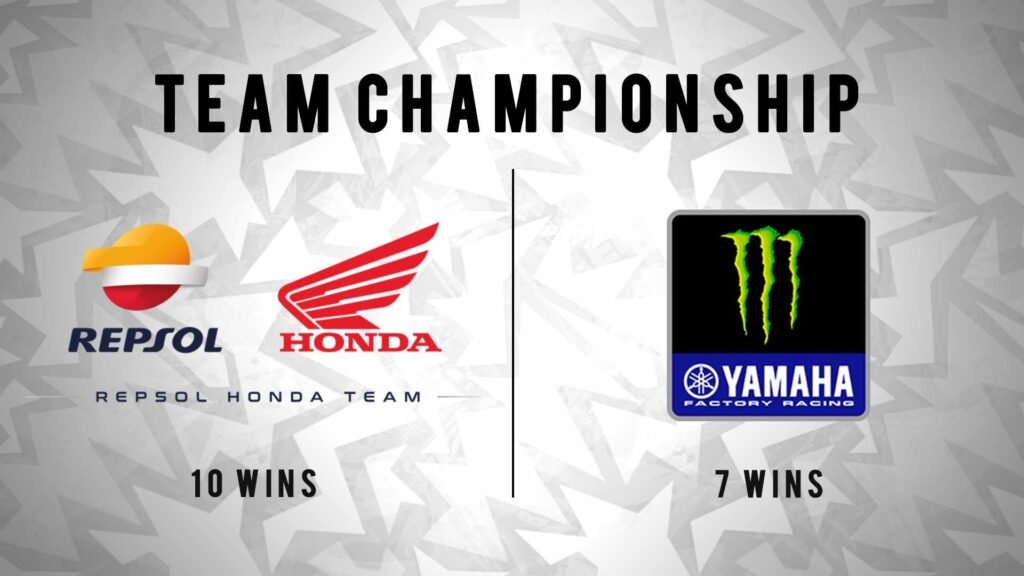 For the teams, the points won by both the riders representing a particular team are added and considered for the championships.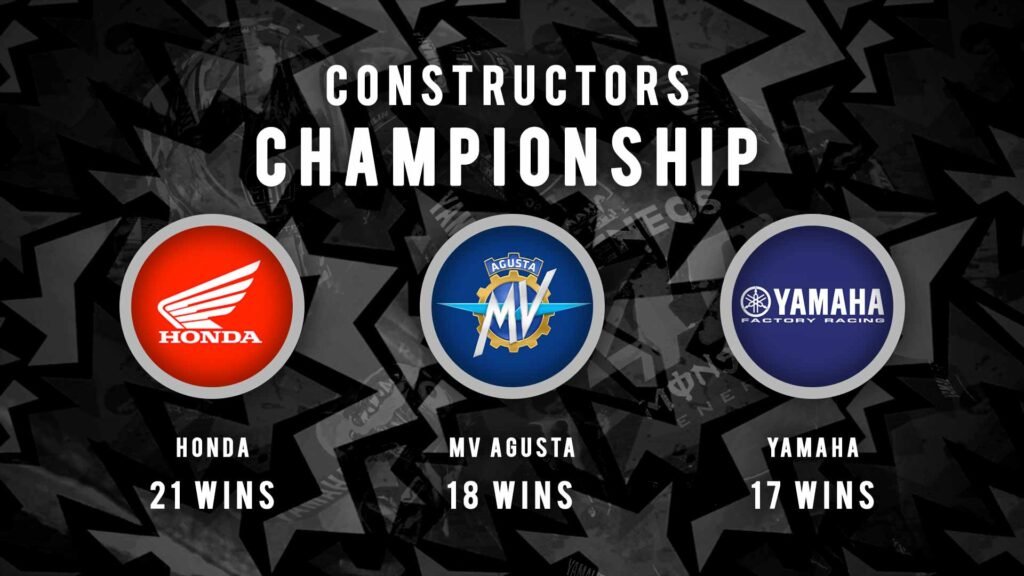 Now with a few major manufacturers operating in MotoGP, riders sometimes might use a common engine even though they are in different teams.
 Now in the case where three riders represent the same constructor, the points from the rider finishing highest are only considered. So in the case where a rider using Yamaha finishes 5th and another finishes 7th, then the points for the 5th position only is used, this rule applies even in the case of multiple drivers using the same engine.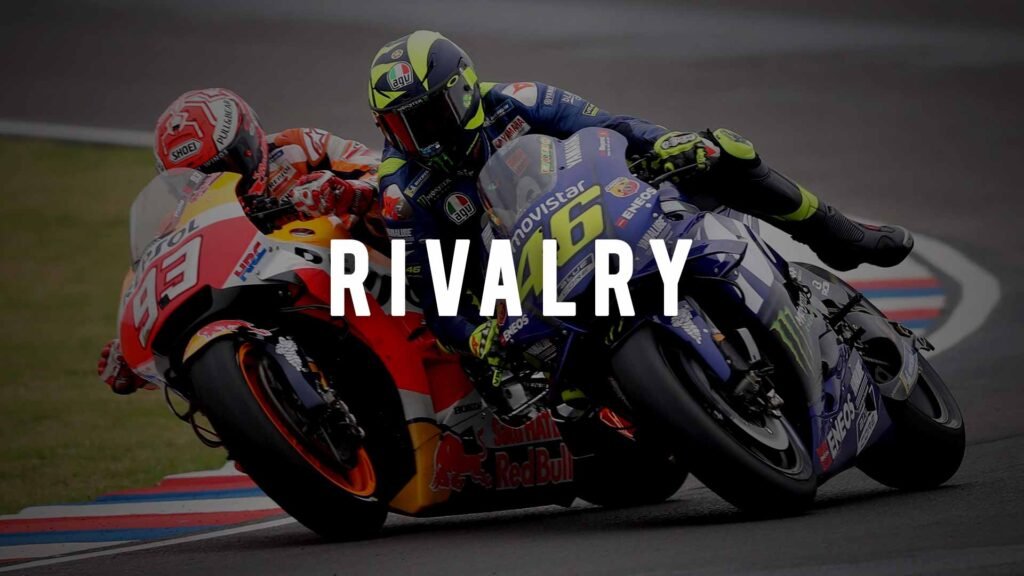 With improved bikes and better-skilled riders, MotoGP has witnessed quite a few intense rivalries. Whether it's Rossi v Lorenzo v Marquez or Hutchinson v Dunlop.
The fierce competition not only offers for an exciting racing calendar year for the fans but also brings in new fans owing to the large buzz such rivalries create.
Let's not even get into rivalries now because that's a  separate history lesson in itself, that's why you should definitely read our blog post, MotoGP: A fight for the throne.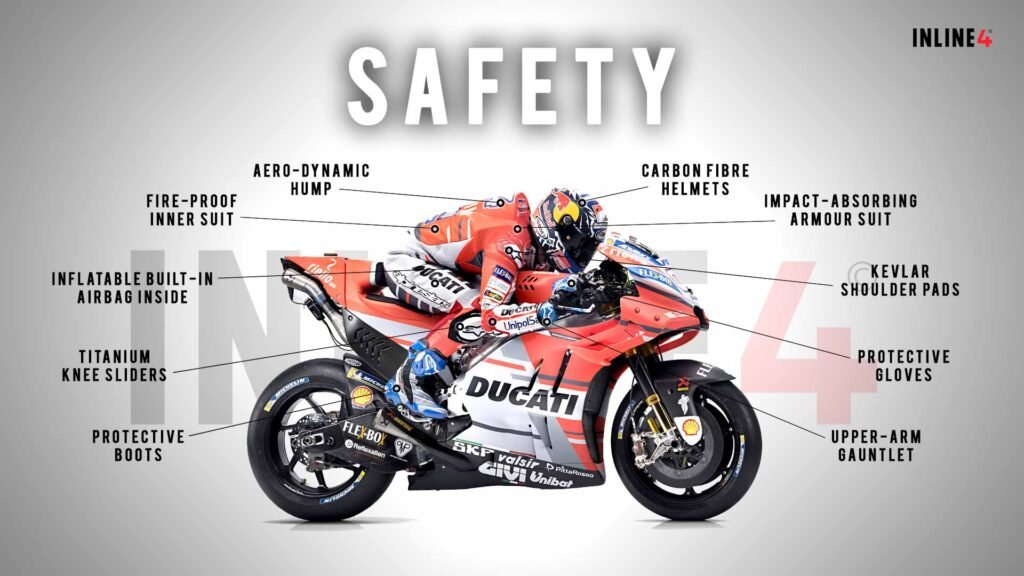 However fun it might look, there's no doubt that a rider is taking a huge risk when he steps out for a race. With riders reaching almost 250km/h, safety becomes a high priority.
Safety gear in such cases is mandatory. Carbon fibre helmets, impact-absorbing armour suits with an inflatable built-in airbag inside the suit, knee sliders, gloves, boots, and a fireproof inner suit goes a long way in protecting the rider.
In the case where the tracks are wet, due to rain, riders can opt for a wet/slick tyre that offers better traction and control.
Also whenever there's a crash, a marshal waves a yellow flag, indicating the same, thus preventing the riders from overtaking and thus adhere to a speed limit. This is continued until the crash is cleared. If the crash proves to be a major one, races can be red-flagged and stopped until the track is cleared.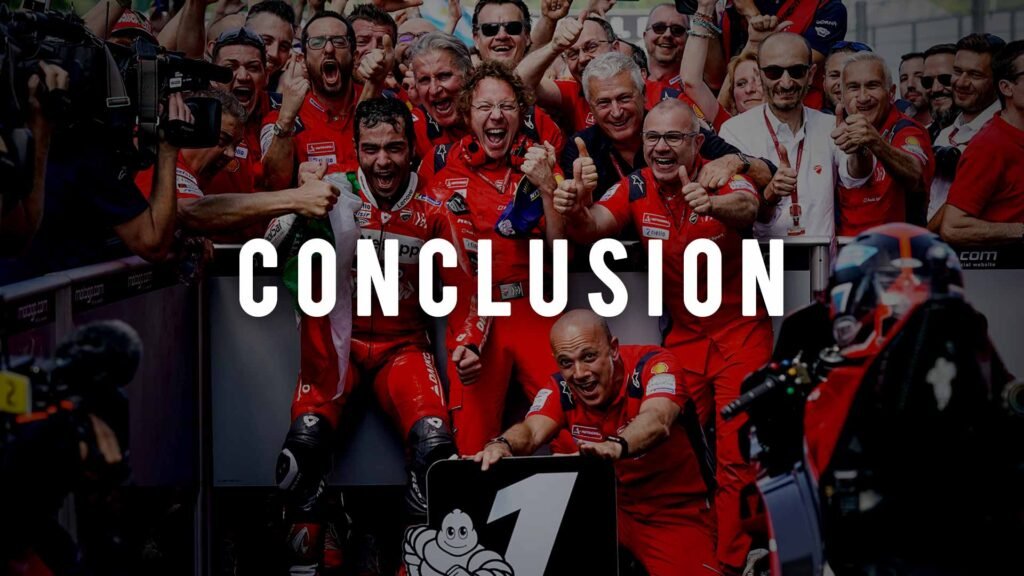 As you can see MotoGP is not just fun and games. A lot goes behind conducting a successful racing year. It employs thousands of people around the world and entertains millions. With further advancement in technology, the motorcycle racing world is bound to get more exciting.
About author